Acronis Products and Solutions

Unifying data protection and cybersecurity to protect all data, applications and systems

For Service Providers
Protect your clients from modern threats and simplify your management.
The world's best backup and recovery
Full-image and file-level backup and recovery to safeguard workloads on more than 20 platforms – with near-zero RPOs and RTOs.
Enhanced with essential cyber protection at no cost
Аdvanced AI-based behavioral detection engine stops malware, ransomware, and zero-day attacks on client workloads.
With protection management built for MSPs
Integrates data protection, cybersecurity, and endpoint management into a single solution with centralized management.
Acronis Cyber Protect Cloud Advanced Packs
Expand your services with advanced protection packs
Add other powerful components to strengthen your services even further with advanced protection packs and unique cyber protection capabilities. Control your costs by paying only for the functionalities your clients need. Advanced packs include: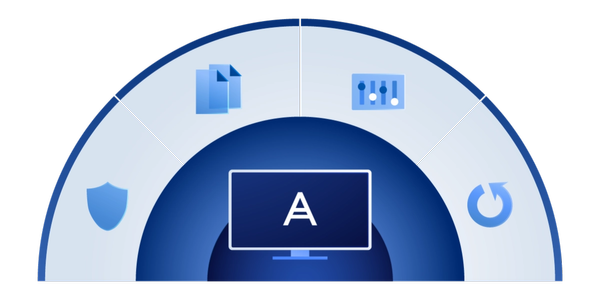 ---
For Business
The only soluiton that integrates cybersecurity, backup, and protection management to keep business flowing - no matter what
Cybersecurity and Endpoint Protection
Endpoint protection management: vulnerability assessments and patch management, remote desktop and drive health
Antimalware
Full stack, next-generation AI-based protection against malware, including URL filtering and automated backup scanning
Backup and Recovery
Fast and reliable recovery of your apps, systems, and data on any device, from any incident
---
For Individuals
Personal cyber protection that delivers integrated backup and anti-malware in one easy-to-use solution