Acronis Cyber Backup for Windows Server Essentials

Complete backup and recovery for business-critical applications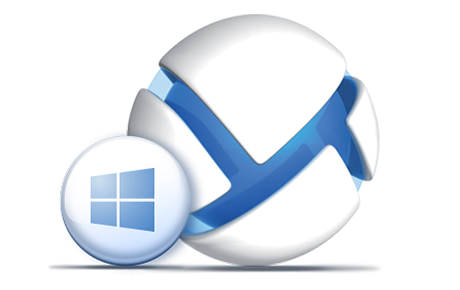 Acronis Products
Acronis Cyber Backup for Windows Server Essentials 12.5
Acronis Cyber Backup 12.5 Standard Windows Server Essentials License incl. AAP ESD, 1 License
*Price per user.
#G1EYLPZZS11
Our Price: $499.00
Acronis Cyber Backup 12.5 Standard Windows Server Essentials License incl. AAP ESD, 2-5 Licenses
*Price per user. Quantity must be 2 or greater
#G1EYLPZZS12
Our Price: $459.08
Acronis Cyber Backup 12.5 Standard Windows Server Essentials License incl. AAP ESD, 6+ Licenses
*Price per user. Quantity must be 6 or greater
#G1EYLPZZS13
Our Price: $424.15
Click here to jump to more pricing!
Overview:
Complete Backup and Recovery for Your Small Business
Acronis Cyber Backup protects your Windows Server Essentials, Foundation, and Small Business Server editions, including applications. You can protect all your essential data, backing up and recovering it quickly and easily. In addition, you can expand your data protection to other data in on-premise or remote systems, in private and public clouds, or on mobile devices.
How Long Can You Survive Without Your Data?
In the event of disaster, Acronis Cyber Backup provides fast, one-click recovery of individual files, essential applications data, complete systems, or your entire IT infrastructure. Now you can get your small business, your systems, and your Windows Server Essentials data back faster than ever.
Don't Fear Hardware Failures
With Acronis Cyber Backup's incredible Universal Restore technology, you can recover Windows Server Essentials' full systems to new or dissimilar hardware without any complications! Skip the hassle of locating a machine of the same make/model or operating system. Recover an entire disk image to any hardware — physical, virtual, or cloud.
Only Acronis Cyber Backup 12
Delivers cloud and on-premise data protection for your entire business, providing you with a unified web console to back up and recover all your individual workloads
Gives you complete control over the location of your data, systems, and backups — ensuring that you always know where your company data is, even if it is stored in the cloud
Protects every user by backing up Windows PCs and tablets, Mac computers, iPad, iPhone, and Android devices
Key Features:
Fast - Achieve RTOs as low as 15 seconds, 2X faster than the closest competitor*
Easy - Install in 3 clicks
Complete - Protect 15 platforms (including Linux) with 1 solution
Safe - Choose one of 4 encryption standards
Reliable - Trusted by 500,000 businesses
Features
Acronis Cloud Storage
Acronis Cyber Backup provides direct access to secure, offsite cloud backup in the Acronis cloud. Simply add an Acronis Cloud Storage subscription to your purchase to fortify your backup storage plan and enhance your data protection.
Cloud and Local Web Console
Use the innovative and intuitive web console that you can provision on-premises or use right away in the Acronis Cloud. Accessible from any device — even your tablet — the console will reduce your backup efforts to a bare minimum.
Microsoft Essentials Applications Protection
Built-in application-aware, single-pass backup protects Microsoft Exchange, SQL Server, SharePoint, and Active Directory. You can then restore individual emails, folders, documents, databases, or entire systems.
Acronis Universal Restore
Restore backups rapidly to any machine — physical, virtual, or the cloud — with just a few simple clicks using Acronis' unique system-recovery technology.
Physical, Virtual, Cloud, Applications, Mobile
Acronis Cyber Backup 12 is the only backup solution that protects your physical Windows® and Linux® servers; virtual Microsoft Hyper-V® and VMware vSphere®; cloud Microsoft Azure VMs and Amazon® EC2 instances; Microsoft Exchange, SQL Server®, SharePoint, and Active Directory applications; Windows PCs, Macs, and soon — iPads, iPhones, and Android devices.
Bare-Metal Recovery
Disk-imaging technology allows you to create an exact replica of your system, configuration, and application data in one step. You can then restore the replica to a new drive, the same hardware, or dissimilar hardware.
Multiple Destinations
Store backup copies in multiple locations for flexible, reliable disaster recovery options. Includes support for local disks, networked storage, and Acronis Cloud Storage.
System Performance
Network bandwidth and disk-write speed throttling allows you to control the impact of running backups during production hours.
Compression
Built-in compression significantly reduces network usage and storage requirements.
Backup Operations Scheduling
Backups can be automated based on simple or custom schedules, ensuring you achieve your target recovery point objectives (RPOs).
Backup Validation
Automatic validation of manual or scheduled backups ensures that your system and user data are recoverable.
Incremental and Differential Backups
Incremental and differential backups identify only the changes made since the last backup, significantly reducing backup time, network usage, and storage requirements.
Encrypted Storage
Encrypt your stored backups with industry-standard, in-flight and at-rest 256-bit AES encryption.
Acronis vmFlashBack
When you need to roll back your Microsoft Hyper-V or VMware vSphere VM, Acronis Cyber Backup 12 leverages the power of changed block tracking (CBT) technology to restore only the data you changed since the last full backup. This will reduce recovery times and let you set aggressive recovery time objectives (RTOs).
Backup Replication and Staging
Once completed, backups are automatically replicated between various storage locations (including the Acronis Cloud). Staging automatically moves data to new storage when the retention period for the current storage expires.
Benefits
Easy Backup
Be free of stress with exceptional ease of use:
Easily protect your entire small business with the intuitive cloud-based/on-premise web console
Effortlessly provision the cloud console, which requires no software installation, and the on-premise console with only three clicks
Restore systems to the same or completely different hardware
Complete Protection
Get the broadest data protection tailored for your business backup needs:
Protect your entire Windows Server Essentials system with trusted disk-imaging backup
Back up all your essential applications with single-pass backup and granular recovery of Microsoft® Exchange, SQL Server®, SharePoint®, and Active Directory®
Keep all users happy with data protection for Microsoft Windows PCs, Macs®, iPhones®, iPads®, and Android® devices
Safe Solution
Regain control of your own IT environment and achieve ultimate peace of mind with the industry's safest Windows Server Essentials backup solution.
Keep your small business data safe with in-flight and at-rest encryption and password protection
Control your infrastructure with alerting and email notifications
Trust the safety of your data, knowing exactly where your backups are — even if they are stored in the cloud
Fast Results
Get rapid business data protection at your fingertips
Provision quickly with zero installation of the cloud console and only three clicks for the on-premise console
Back up fast with patented disk-imaging technology used by millions
Recover in seconds with Acronis Instant Restore™
Reliable Technologies
Depend on the business backup solution that safeguards millions of systems
Rely on trusted Acronis Universal Restore to recover to dissimilar hardware
Trust a disk-imaging technology invented and patented by Acronis
Count on versatile recovery options — from single emails to entire systems
Join the community of 500,000 businesses that trust Acronis Cyber Backup solutions to protect their data
Requirements:
Operating systems: Microsoft Windows Server Essentials, Foundation, and Small Business Server editions
Applications: Microsoft Exchange, SQL Server, SharePoint, Active Directory
Storage: Local Disks, Networked Storage Devices, Acronis Cloud Storage
Web Browsers: IE, Edge, Chrome, Firefox, Opera, Safari
Detailed Requirements
Operating Systems for On-Premise Console
Windows Server 2016 Essentials and Foundation editions
Windows Server 2012/2012 R2 Essentials and Foundation editions
Windows 10, 8/8.1, 7 (x64 edition)
Linux
Microsoft Windows Essentials
Windows Server 2016 Essentials and Foundation editions
Windows Server 2012/2012 R2 Essentials and Foundation editions
Windows Small Business Server 2011, 2008, 2003/2003 R2
Storage
Local disks - SATA, SCSI, IDE, RAID
Networked storage devices - SMB, NFS, iSCSI, FC
Removable media - ZIP, Rev, RDX, etc.
External HDDs and SSDs - USB 3.0/2.0/1.1and IEEE1394 (Firewire)
Acronis Cloud Storage
File Systems
FAT16/32
NTFS
HPFS
ReFS *
Ext2/Ext3/Ext4
ReiserFS3 *
ReiserFS4 *
XFS *
JFS *
Linux SWAP
Web Browsers
Microsoft Edge 1.0
Windows Internet Explorer 10 or later
Google Chrome 29 or later
Mozilla Firefox 23 or later
Opera 16 or later
Safari 8 or later (running in Apple OS X and iOS)
Pricing and product availability subject to change without notice.
This product is available as instant electronic delivery upon purchase.
Acronis Advantage Premier - Offers 24 x 7 support services available via phone, chat, and email. Acronis Advantage Premier customers receive priority support in the event of a business-critical system error (severity A), customers will receive the initial response within one hour. The first year of service is included with the Acronis line of corporate products.