Acronis DeviceLock DLP

Stop data leaks at the source with complete endpoint data loss prevention (DLP)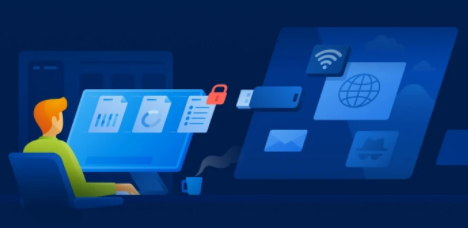 Acronis DeviceLock Endpoint DLP License includes 1 year Acronis Maintenance and Support, 5-49 Endpoints ESD
#DLAALAENS11
Our Price: $59.85
Works optimally with other Acronis cyber protection products to completely protect data – anytime, anywhere
High availability provided by five separate server nodes in one 3RU appliance chassis
Secure data storage with Data-at-Rest Encryption (D@RE) and strict role-based
Acronis Products
Acronis DeviceLock DLP License
Acronis DeviceLock Endpoint DLP License includes 1 year Acronis Maintenance and Support, 5-49 Endpoints ESD
#DLAALAENS11
Our Price: $59.85
Acronis DeviceLock Endpoint DLP License includes 1 year Acronis Maintenance and Support, 50-199 Endpoints ESD
#DLAALBENS11
Our Price: $43.70
Acronis DeviceLock Endpoint DLP License includes 1 year Acronis Maintenance and Support, 200-499 Endpoints ESD
#DLAALCENS11
Our Price: $34.20
More pricing below, click here!
Overview:
An enterprise DLP that's easy to learn, deploy, and manage
Acronis DeviceLock DLP provides comprehensive endpoint DLP (endpoint data loss prevention) – discovering and protecting sensitive data while monitoring the operations involving that information.
Benefits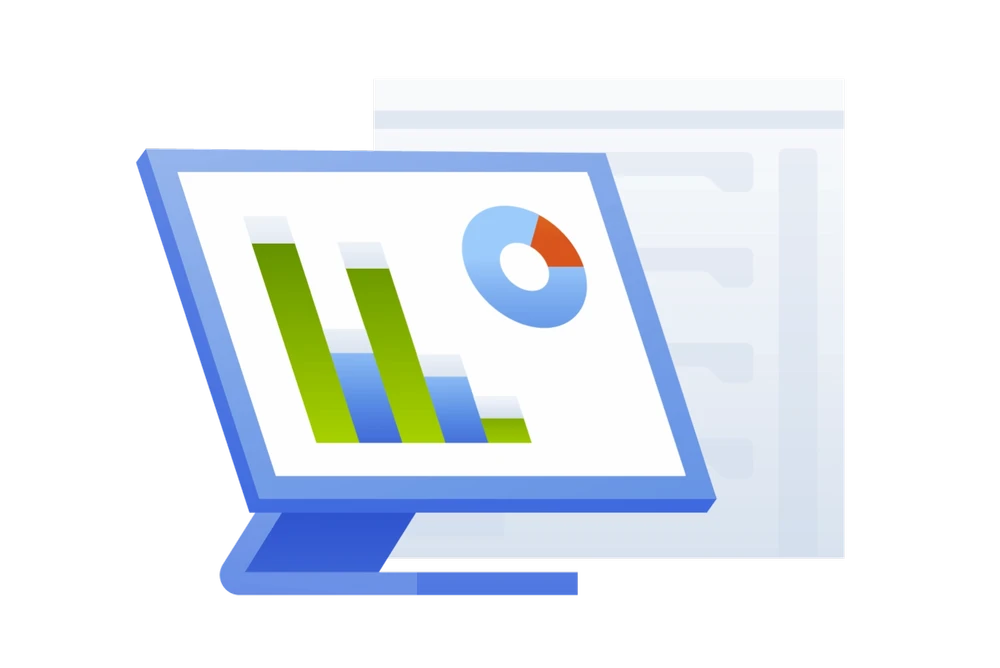 Minimize insider threats
Prevent data leakage due to employee negligence or malicious insiders by blocking any unauthorized attempt to access or transfer data, discovering and protecting sensitive data-at-rest.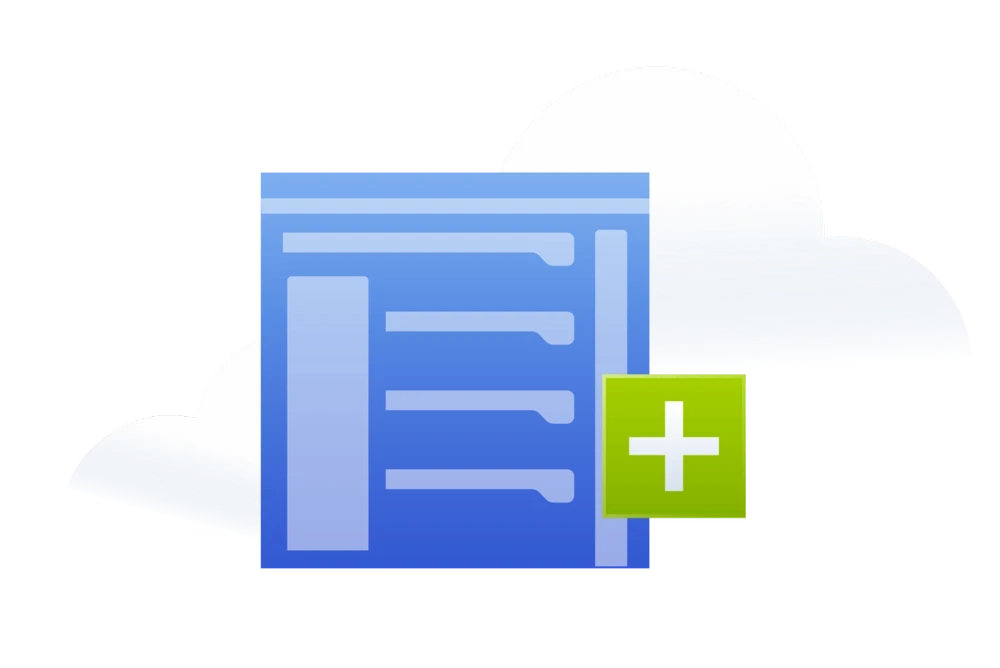 Gain visibility into data protection
Reduce the complexity of data protection and cut reporting times with a single DLP solution for thorough visibility over data flows and user behavior.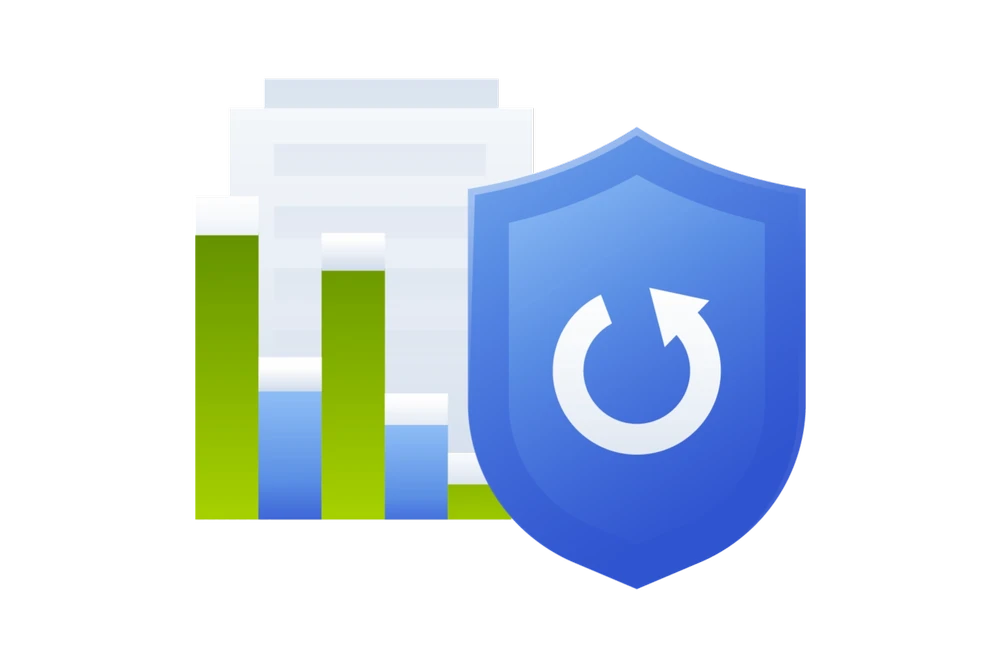 Enforce process compliance
Reduce information security risks and comply with IT security standards and regulations by enforcing data use and handling policies that users can't avoid following.
Features
Reduced complexity
Save the time and hassle associated with managing a DLP solution. Acronis DeviceLock DLP is easily deployable through Active Directory (AD) and offers various central management consoles, based on your organization's requirements.
Centralized management
Native integration with Group Policy
Non-interruptive updates and upgrades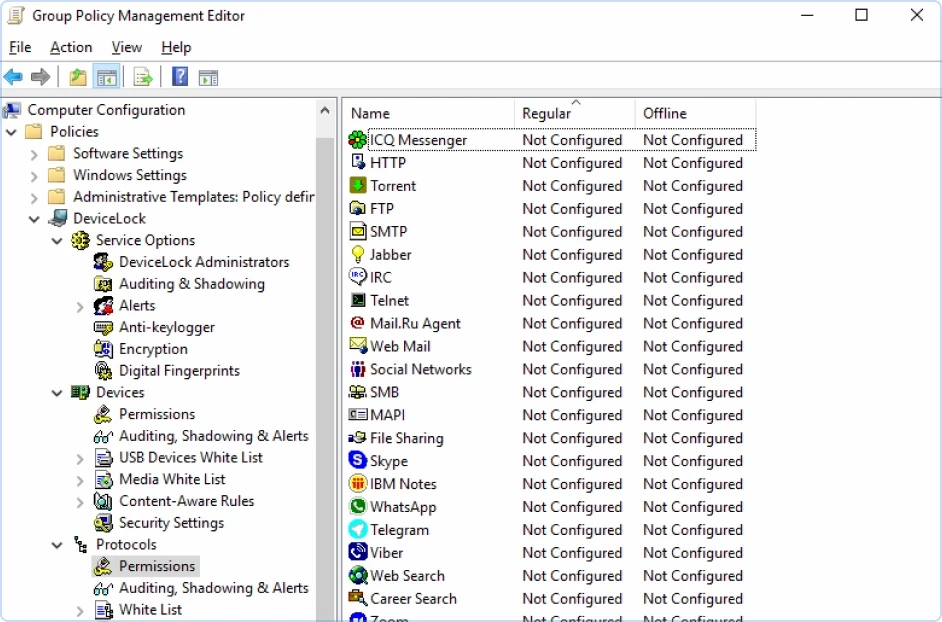 Increased productivity
Gain visibility over data protection and increase compliance with monitoring of end-users actions and data flows, as well as built-in reporting capabilities. Control costs for DLP cybersecurity by purchasing only the functionality you need.
User activity monitoring and log collection
Built-in log record viewers and reporting tools
Modular architecture to control total cost of ownership (TCO)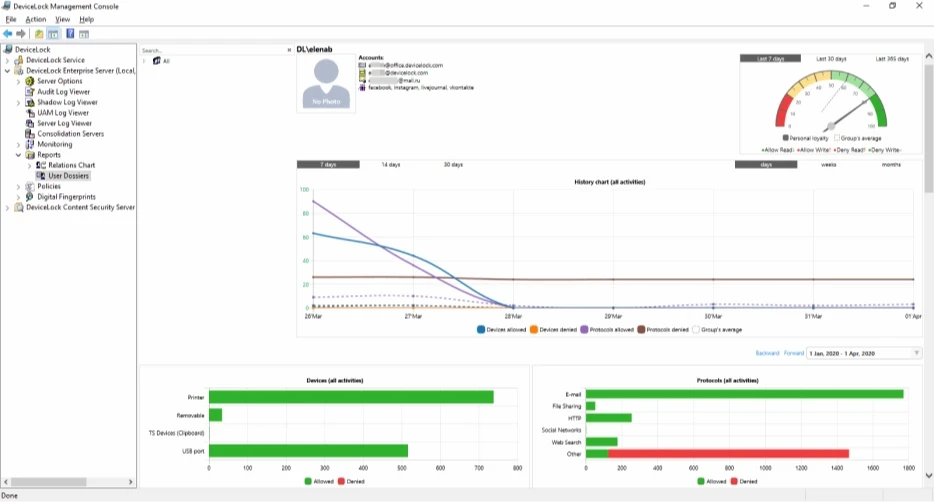 Improved data loss prevention
Minimize the risks related to insider threats. Allow only the legitimate operations necessary for business processes and block any unauthorized activities with enforced policies that users cannot bypass.
Control over data flows in local and network channels
Content analysis and filtering
Granular control over allowed legitimate actions and processes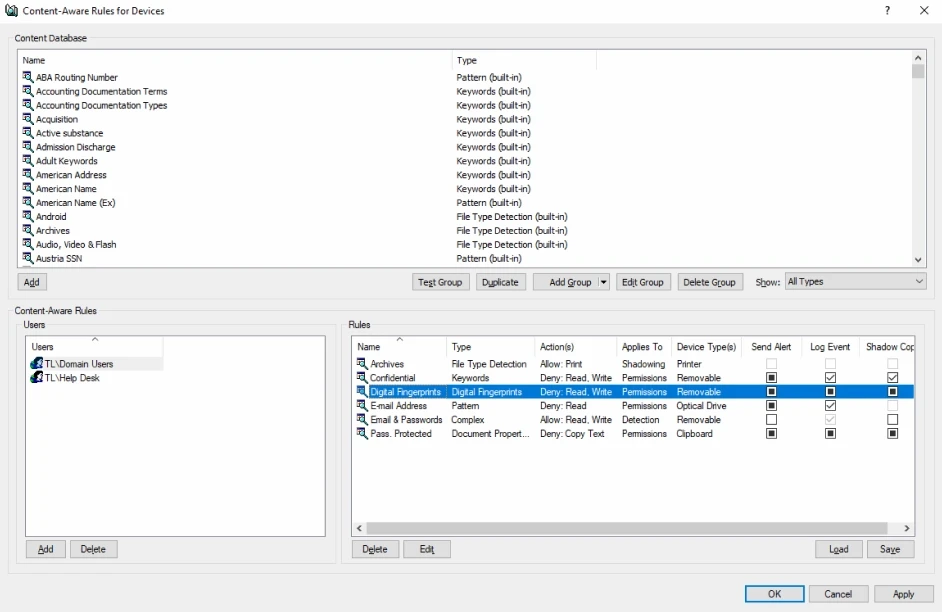 Features:
Control costs with modular architecture
Acronis DeviceLock DLP is comprised of different modules that serve as complementary functional components with incremental licensing to protect data-in-use, data-in-motion, and data-at-rest. Only purchase the functionalities that your business needs for DLP security.
Data loss prevention for virtualized sessions
With Acronis DeviceLock DLP, you can bring data loss prevention capabilities to streamed desktops and applications, as well as local virtual machines on hypervisors. This way you can prevent data leaks in BYOD implementations based on remote virtualization. The DLP controls are enforced on the edge of the virtual platform to control data exchanges between the virtual workspace and the personal part of the BYOD device, its local peripherals, and the network.
Supported solutions
Microsoft RDS, Citrix XenDesktop, Citrix XenApp, VMware Horizon View, VMware Workstation, VMware Workstation Player, Oracle VM VirtualBox, Windows Virtual PC
Supported controls
Context-aware and content-aware controls, logging, data shadowing and alerting for thorough DLP security over virtualized sessions
No leakage of corporate data
IT retains complete control over virtual corporate environments on employees' personal devices
Private data independency
Employees maintain full control over the device platform, personal applications, and their private data

Comprehensive data loss prevention capabilities
Centralized management and deployment
Ease the resource-consuming processes of deploying and managing an enterprise DLP solution. Acronis DeviceLock DLP offers a set of central management consoles based on an organization's IT environment, along with the ability to manage and deploy natively through Group Policy.
Agent-resident optical character recognition (OCR)
Extract and inspect textual data from more than 30 graphical formats, including graphical files, screenshots, pictures in documents, emails, and instant messages. Improve DLP cybersecurity on endpoints both inside and outside the corporate network.
Clipboard control
Prevent unauthorized data transfers at their earliest stage – between application and documents – through the Windows clipboard and print-screen mechanism. Block specific operations, such as print-screen, or granularly control them based on copied content.
Log collection
Automatically collect audit and shadow logs and deliver them to the secure central repository to ease security investigations and auditing, thanks to Acronis DeviceLock DLP agents. Traffic shaping and data compression for log delivery and load-balancing help reduce network impact.
Alerting
Shorten reaction times with real-time SMTP, SNMP, and SYSLOG alerts based on unauthorized actions delivered directly to SIEM systems and administrators.
Tamper protection
Prevent tampering with DLP policy settings locally on protected endpoints, even by local sysadmins. When enabled, only designated Acronis DeviceLock DLP administrators using the central management console can uninstall, upgrade the agent, or modify DLP security policies.
Allowlisting
Authorize the use of specific USB devices or provide a temporary access code for offline work purposes. Allowlist media storage devices and users that can access them. Specify allowlist-oriented controls over network communications based on protocol and network application properties.
Reporting
Gain visibility over data flows, data protection, and user activities related to them with powerful built-in compliance-related reports based on audit and shadow logs, permissions and settings, connected plug-and-play devices, and user activities.
System Requirements:
Acronis DeviceLock Agents and Management Consoles
Windows XP/Vista/7/8/8.1/10 (up to 21H1)/Server 2003-2019 (32/64-bit)
Apple macOS 10.15 - 11.2.3 (32/64-bit)
Microsoft RDS, Citrix XenDesktop/XenApp, XenServer, VMware Horizon View
VMware Workstation, VMware Player, Oracle VM VirtualBox, Windows Virtual PC
Acronis DeviceLock Enterprise Server, Discovery Server, Search Server
Windows Server 2003-2019 (32/64-bit)
Microsoft RDS, XenServer, VMware vSphere Desktop
Directory integration
Microsoft AD (full native)
NetIQ (Novell) eDirectory any LDAP (object import)
Databases
Microsoft SQL Server/Server Express 2005 or newer
PostgreSQL 9.5 or newer
Pricing and product availability subject to change without notice.
This product is available as instant electronic delivery upon purchase.
Acronis Advantage Premier - Offers 24 x 7 support services available via phone, chat, and email. Acronis Advantage Premier customers receive priority support in the event of a business-critical system error (severity A), customers will receive the initial response within one hour. The first year of service is included with the Acronis line of corporate products.
Acronis Products
Acronis DeviceLock DLP License
Acronis DeviceLock Endpoint DLP License includes 1 year Acronis Maintenance and Support, 5-49 Endpoints ESD
#DLAALAENS11
Our Price: $59.85
Acronis DeviceLock Endpoint DLP License includes 1 year Acronis Maintenance and Support, 50-199 Endpoints ESD
#DLAALBENS11
Our Price: $43.70
Acronis DeviceLock Endpoint DLP License includes 1 year Acronis Maintenance and Support, 200-499 Endpoints ESD
#DLAALCENS11
Our Price: $34.20
Acronis DeviceLock Endpoint DLP License includes 1 year Acronis Maintenance and Support, 500-999 Endpoints ESD
#DLAALDENS11
Our Price: $25.65
Acronis DeviceLock Endpoint DLP License includes 1 year Acronis Maintenance and Support, 1000-2499 Endpoints ESD
#DLAALEENS11
Our Price: $20.90
Acronis DeviceLock Endpoint DLP License includes 1 year Acronis Maintenance and Support, 2500-4999 Endpoints ESD
#DLAALFENS11
Our Price: $19.00
Acronis DeviceLock Endpoint DLP License includes 1 year Acronis Maintenance and Support, 5000-9999 Endpoints ESD
#DLAALGENS11
Our Price: $17.10
Acronis DeviceLock Endpoint DLP License includes 1 year Acronis Maintenance and Support, 10000+ Endpoints ESD
#DLAALHENS11
Our Price: $14.73
Acronis DeviceLock DLP Upgrade
Acronis DeviceLock Endpoint DLP Upgrade License includes 1 year Acronis Maintenance and Support, 5-49 Endpoints ESD
#DLAAU1ENS11
Our Price: $41.90
Acronis DeviceLock Endpoint DLP Upgrade License includes 1 year Acronis Maintenance and Support, 50-199 Endpoints ESD
#DLAAU2ENS11
Our Price: $30.59
Acronis DeviceLock Endpoint DLP Upgrade License includes 1 year Acronis Maintenance and Support, 200-499 Endpoints ESD
#DLAAU3ENS11
Our Price: $23.94
Acronis DeviceLock Endpoint DLP Upgrade License includes 1 year Acronis Maintenance and Support, 500-999 Endpoints ESD
#DLAAU4ENS11
Our Price: $17.96
Acronis DeviceLock Endpoint DLP Upgrade License includes 1 year Acronis Maintenance and Support, 1000-2499 Endpoints ESD
#DLAAU5ENS11
Our Price: $14.63
Acronis DeviceLock Endpoint DLP Upgrade License includes 1 year Acronis Maintenance and Support, 2500-4999 Endpoints ESD
#DLAAU6ENS11
Our Price: $13.30
Acronis DeviceLock Endpoint DLP Upgrade License includes 1 year Acronis Maintenance and Support, 5000-9999 Endpoints ESD
#DLAAU7ENS11
Our Price: $11.97
Acronis DeviceLock Endpoint DLP Upgrade License includes 1 year Acronis Maintenance and Support, 10000+ Endpoints ESD
#DLAAU8ENS11
Our Price: $10.31
Acronis DeviceLock Maintenance/Support Only
Acronis DeviceLock Endpoint DLP License - Acronis Maintenance and Support, 5-49 Endpoints ESD
#DLAAM1ENS11
Our Price: $17.96
Acronis DeviceLock Endpoint DLP License - Acronis Maintenance and Support, 50-199 Endpoints ESD
#DLAAM2ENS11
Our Price: $13.11
Acronis DeviceLock Endpoint DLP License - Acronis Maintenance and Support, 200-499 Endpoints ESD
#DLAAM3ENS11
Our Price: $10.26
Acronis DeviceLock Endpoint DLP License - Acronis Maintenance and Support, 500-999 Endpoints ESD
#DLAAM4ENS11
Our Price: $7.70
Acronis DeviceLock Endpoint DLP License - Acronis Maintenance and Support, 1000-2499 Endpoints ESD
#DLAAM5ENS11
Our Price: $6.27
Acronis DeviceLock Endpoint DLP License - Acronis Maintenance and Support, 2500-4999 Endpoints ESD
#DLAAM6ENS11
Our Price: $5.70
Acronis DeviceLock Endpoint DLP License - Acronis Maintenance and Support, 5000-9999 Endpoints ESD
#DLAAM7ENS11
Our Price: $5.13
Acronis DeviceLock Endpoint DLP License - Acronis Maintenance and Support, 10000+ Endpoints ESD
#DLAAM8ENS11
Our Price: $4.42
Acronis DeviceLock Maintenance/Support Only (Renewal)
Acronis DeviceLock Endpoint DLP License - Renewal Acronis Maintenance and Support, 5-49 Endpoints ESD
#DLAAR1ENS11
Our Price: $17.96
Acronis DeviceLock Endpoint DLP License - 2 Year Renewal Acronis Maintenance and Support, 5-49 Endpoints ESD
#DLAAS1ENS11
Our Price: $33.52
Acronis DeviceLock Endpoint DLP License - 3 Year Renewal Acronis Maintenance and Support, 5-49 Endpoints ESD
#DLAAP1ENS11
Our Price: $44.29
Acronis DeviceLock Endpoint DLP License - Renewal Acronis Maintenance and Support, 50-199 Endpoints ESD
#DLAAR2ENS11
Our Price: $13.11
Acronis DeviceLock Endpoint DLP License - 2 Year Renewal Acronis Maintenance and Support, 50-199 Endpoints ESD
#DLAAS2ENS11
Our Price: $24.47
Acronis DeviceLock Endpoint DLP License - 3 Year Renewal Acronis Maintenance and Support, 50-199 Endpoints ESD
#DLAAP2ENS11
Our Price: $32.34
Acronis DeviceLock Endpoint DLP License - Renewal Acronis Maintenance and Support, 200-499 Endpoints ESD
#DLAAR3ENS11
Our Price: $10.26
Acronis DeviceLock Endpoint DLP License - 2 Year Renewal Acronis Maintenance and Support, 200-499 Endpoints ESD
#DLAAS3ENS11
Our Price: $19.15
Acronis DeviceLock Endpoint DLP License - 3 Year Renewal Acronis Maintenance and Support, 200-499 Endpoints ESD
#DLAAP3ENS11
Our Price: $25.31
Acronis DeviceLock Endpoint DLP License - Renewal Acronis Maintenance and Support, 500-999 Endpoints ESD
#DLAAR4ENS11
Our Price: $7.70
Acronis DeviceLock Endpoint DLP License - 2 Year Renewal Acronis Maintenance and Support, 500-999 Endpoints ESD
#DLAAS4ENS11
Our Price: $14.36
Acronis DeviceLock Endpoint DLP License - 3 Year Renewal Acronis Maintenance and Support, 500-999 Endpoints ESD
#DLAAP4ENS11
Our Price: $18.98
Acronis DeviceLock Endpoint DLP License - Renewal Acronis Maintenance and Support, 1000-2499 Endpoints ESD
#DLAAR5ENS11
Our Price: $6.27
Acronis DeviceLock Endpoint DLP License - 2 Year Renewal Acronis Maintenance and Support, 1000-2499 Endpoints ESD
#DLAAS5ENS11
Our Price: $11.70
Acronis DeviceLock Endpoint DLP License - 3 Year Renewal Acronis Maintenance and Support, 1000-2499 Endpoints ESD
#DLAAP5ENS11
Our Price: $15.47
Acronis DeviceLock Endpoint DLP License - Renewal Acronis Maintenance and Support, 2500-4999 Endpoints ESD
#DLAAR6ENS11
Our Price: $5.70
Acronis DeviceLock Endpoint DLP License - 2 Year Renewal Acronis Maintenance and Support, 2500-4999 Endpoints ESD
#DLAAS6ENS11
Our Price: $10.64
Acronis DeviceLock Endpoint DLP License - 3 Year Renewal Acronis Maintenance and Support, 2500-4999 Endpoints ESD
#DLAAP6ENS11
Our Price: $14.06
Acronis DeviceLock Endpoint DLP License - Renewal Acronis Maintenance and Support, 5000-9999 Endpoints ESD
#DLAAR7ENS11
Our Price: $5.13
Acronis DeviceLock Endpoint DLP License - 2 Year Renewal Acronis Maintenance and Support, 5000-9999 Endpoints ESD
#DLAAS7ENS11
Our Price: $9.58
Acronis DeviceLock Endpoint DLP License - 3 Year Renewal Acronis Maintenance and Support, 5000-9999 Endpoints ESD
#DLAAP7ENS11
Our Price: $12.65
Acronis DeviceLock Endpoint DLP License - Renewal Acronis Maintenance and Support, 10000+ Endpoints ESD
#DLAAR8ENS11
Our Price: $4.42
Acronis DeviceLock Endpoint DLP License - 2 Year Renewal Acronis Maintenance and Support, 10000+ Endpoints ESD
#DLAAS8ENS11
Our Price: $8.25
Acronis DeviceLock Endpoint DLP License - 3 Year Renewal Acronis Maintenance and Support, 10000+ Endpoints ESD
#DLAAP8ENS11
Our Price: $10.90