Acronis Backup Solutions

Protect all your data on-premises, in remote systems, in private, public and hybrid clouds, and on mobile devices.
Overview:
Efficient Backup and Recovery for Any Business
What happens if your organization loses its data? Since data is your organization's most critical corporate asset, loss of data can have significant financial consequences — unproductive employees, dissatisfied clients, lost sales, and additional costs.
If your organization is subject to compliance regulations, you can also be in a non-compliant state, pay high fines, and incur brand damage. With the volume of data exploding and the IT landscape evolving to hybrid cloud environments, you know protecting all of your data — everywhere — ensures business continuity.
Acronis backup solutions deliver easy, complete and safe data protection for your entire environment — unifying backup of your on-premise systems and cloud workloads to protect: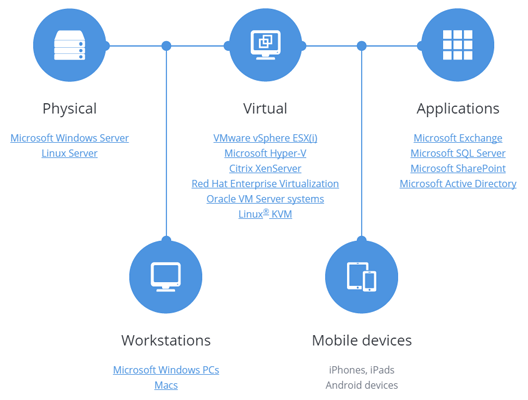 Features:
Acronis Backup is...
Easy
Reduce management complexity with a flexible, straightforward user interface
Safe
Data is encrypted in transit and at rest, and in the Acronis Cloud it is housed in SSAE 16 certified data centers
Reliable
Trusted by more than 500,000 businesses worldwide
Complete
Protect your entire business, regardless of where your data is stored — on-premises, remote, private cloud, public cloud, and mobile
Fast
Quickly back up and recover workloads anywhere with best-in-class data protection technologies
Key Benefits
Reduce recovery time by:
50%
Reduce long-term storage costs by up to:
60%
Reduce the time to back up a full system by:
30%
Key Products
Acronis Backup Key Products
Acronis Backup
Complete backup and data protection for your entire business, whether your data is stored on-premises, in remote systems, in private and public clouds, or on mobile devices.
Acronis Backup Advanced
Robust, easy-to-use data protection with advanced functionality for complex environments.
Acronis Backup Cloud
Acronis Backup Cloud is a proven, comprehensive, local and cloud backup and recovery service for service providers. Acronis Backup Cloud backs up data from any source, stores data locally, in the cloud, and lets you recover to any destination and system.
See Also
Acronis Disaster Recovery Service
Cloud-based disaster recovery for organizations that require constant data availability and business-critical systems.