Acronis Drive Cleanser 6.0

The proven solution to securely obliterate hard disks.

Sorry, this product is no longer available, please contact us for a replacement.
Overview:
Getting rid of an old PC, upgrading to a new hard drive, returning a leased computer, or redeploying a PC within your company? It is truly imperative to completely destroy all data from the old hard disk.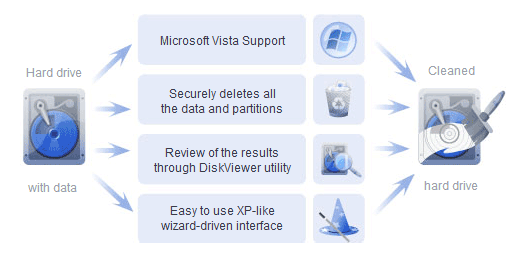 Summary
The mass media and the Internet are full of stories about used computers being sold with hard disk drives containing confidential data — banking account information, credit card numbers, social security data, human resource, accounting and other internal documents, or even restricted information concerning a company's board of directors!
This confidential data should not only be safeguarded according to the strict rules, but it should also be reliably and completely destroyed when needed. You know you have deleted all the financial, corporate, and personal files, and even formatted and deleted hard disk partitions — but are they really gone from the drive? The answer is NO!
Acronis DriveCleanser 6.0 ensures the complete destruction of data on selected partitions and/or entire disks. Acronis has a long history of supporting all Microsoft operating systems and now continues that tradition with full Microsoft Vista Support for Acronis Drive Cleanser 6.0!
Features and Benefits
Microsoft Vista Support — Support for Microsoft's latest and most robust operating system to date.
Securely deletes all the data and partitions on a hard disk.
Full review of the results of hard disk wiping through built-in DiskViewer utility.
Extremely easy to use Windows XP-like wizard-driven interface.
Data Destruction Standards:
Microsoft The Acronis Drive Cleanser application offers the destruction of confidential information on hard magnetic disks with the help of special algorithms.
National data destruction standards
These algorithms were designed in compliance with most known national standards:
American: DoD 5220.22-M;
American: NAVSO P-5239-26 (RLL);
American: NAVSO P-5239-26 (MFM);
German: VSITR;
Russian: Russian Standard, GOST P50739-95.
Predefined algorithms
In addition to algorithms corresponding to national standards, Drive Cleanser supports predefined algorithms proposed by well-known and authoritative specialists in the field of information security:
Peter Gutmann's algorithm — data is destroyed with 35 passes;
Bruce Schneier's algorithm — data is destroyed with 7 passes.
Built-in algorithms:
Below you can see screenshots of Acronis DriveCleanser 6.0 working with built-in wiping algorithms.
Selecting partitions and/or hard disks for wiping
Wiping of confidential data with Acronis DriveCleanser 6.0 begins with selecting partitions and/or disks containing such data. The program provides users with detailed information about disks and their partitions.
The figure shows the primary partition of the second hard disk selected for wiping of the confidential data (it is marked with a red cross).

---

Deleting a partition and/or a disk after data destruction
In addition to destruction of confidential data, Acronis DriveCleanser 6.0 is capable of formatting selected partitions and/or the whole hard disk drives, or deleting partitions. By default partitions and/or disks are selected to be formatted.

---

Predefined algorithms of data destruction
Acronis DriveCleanser 6.0 features the list of predefined algorithms containing known national standards as well as algorithms developed by authoritative experts in data security. For example, the U.S. Standard DoD 5220.22-M and the algorithm of P. Gutmann.

---

Script of confidential data destruction
After selecting a partition and/or a disk, partition formatting or deletion, and the wiping algorithm, a scripted scenario of data destruction will be created.
No real actions will be performed on a disk up to this point. You can execute the script or reject it by returning a step or several steps to select another partition or new algorithm.
After clicking the Proceed button the script of data destruction will be executed.

---

The completion of data destruction script
The "Data Destroying Completed" window will inform you that the script has completed its work. You may either end the program by pressing the Exit button (that will result in rebooting the computer), or you may see the results of wiping by pressing the View disks button.

---

The utility for viewing the contents of hard disk partitions
The DiskViewer utility allows you to see the contents of sectors on hard disk partitions after wiping the confidential data by means of the built-in and custom algorithms.
Custom algorithms:
Below you can see screenshots of Acronis DriveCleanser 6.0 on how to create and use custom wiping algorithms.
Creating custom algorithms in Acronis DriveCleanser 6.0
To create a custom algorithm select the "Custom..." line in the drop-down list of the "Algorithm selection" window.

---

The number of passes the custom algorithm will make on the hard disk
In the "Number of Passes" window enter the number of over-writing passes to be performed on the hard disk by your algorithm.
Generally the more over-write passes performed on the hard disk, the more reliably the partition or disk will be wiped. Please notice that additional passes will require additional time to perform their functions.

---

The custom algorithm definition window
The "Algorithm Definition" window shows you a template for the custom algorithm. The number of elements in the offered list is equal to the number of passes on the hard disk that you have defined for the algorithm.
To fully define the algorithm you should specify the actions to be performed by the software during the each pass on the hard disk.

---

Defining patterns for writing to disk during each pass
The "Wipe pass adjustment" window allows you to specify the data for writing to hard disk sectors during each pass.
During the first pass you can write either any hexadecimal value from 1 up to 512 bytes long, or a random value of the same length.
During the next passes you may select to write values complimentary to those written during previous passes, and also to verify writing.

---

The created custom algorithm
Having defined the writing patterns for each pass on the hard disk, you have completely defined the custom algorithm and may execute it.

---

Saving custom algorithms
Custom algorithms may be created with the purpose of reusing them in the future. Therefore, after the algorithm is created (the template is filled), the next step (by default) is saving it in the "Save custom algorithm" window.

---

Loading custom algorithms from files
Having created and saved the custom algorithm to file, you can load the file and begin working with it under Acronis DriveCleanser 6.0. To begin, simply select "Load" from file in the drop-down list in the "Algorithm selection" window.
Supported OSes:
New! Microsoft Vista
DOS
Windows 3.1 + DOS
Windows 95
Windows 95 OSR 2
Windows 98
Windows ME
Windows NT 3.1
Windows NT 3.5
Windows NT 3.51
Windows NT 4.0 (including Server)
Windows 2000 (including Server and Advanced Server)
Windows XP
Windows 2003 Server
Linux (any distribution)
FreeBSD
Solaris
SCO UNIX
UNIXWARE
OS/2
BeOS
QNX
B-TRON
Any other
This product is available as instant electronic delivery upon purchase.
Acronis Advantage Premier - Offers 24 x 7 support services available via phone, chat, and email. Acronis Advantage Premier customers receive priority support in the event of a business-critical system error (severity A), customers will receive the initial response within one hour. The first year of service is included with the Acronis line of corporate products.
Sorry, this product is no longer available, please contact us for a replacement.