Acronis Snap Deploy for Server

Be Everywhere at Once!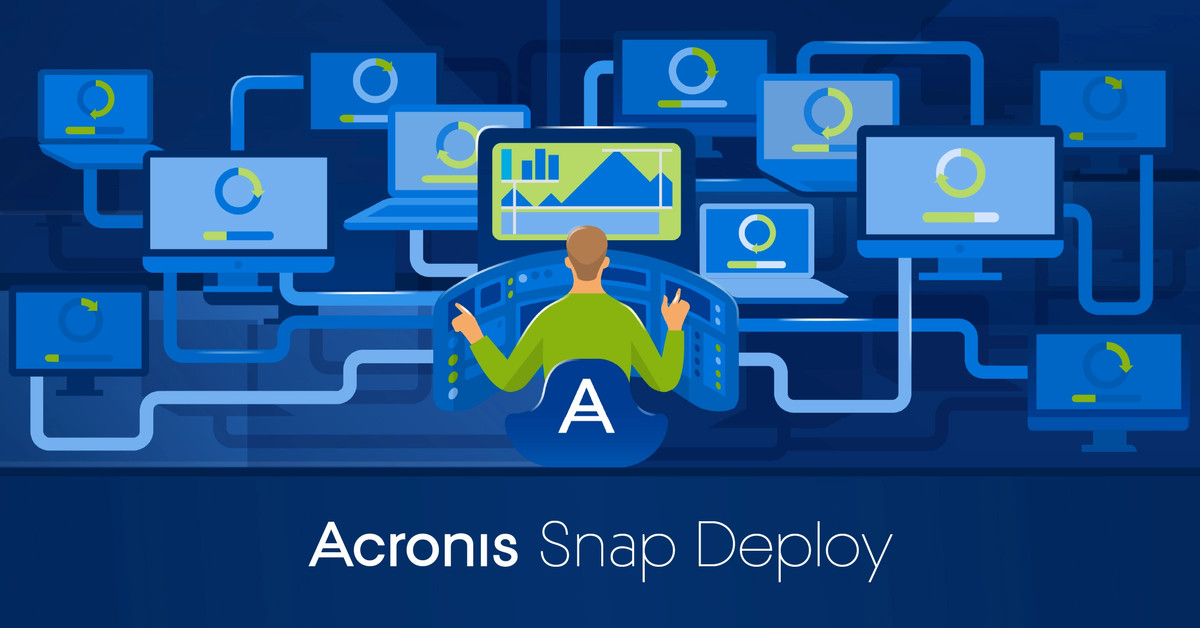 Acronis Snap Deploy for Server Machine License (v5) incl. AAP ESD, 1-3 Licenses
*Price per user.
#SSPELPENS11
Our Price: $121.00

Increase operational efficiency
Save time and effort with automated provisioning of new operating systems and software to thousands of systems simultaneously – quickly and reliably.
Provide complete and consistent environments
Reduce configuration errors and ensure your environments are safe, malware-free, and up-to-date.
Manage deployments with ease
Acronis Snap Deploy is ideal for rapid bare-metal initial deployment, as well as effortless on-going redeployment to existing live machines.
Click here to jump to more pricing!
Overview:
Ideal for rapid bare-metal initial deployments to a large number of workstations and servers, and an effortless on-going deployment to the same hardware, Acronis® Snap Deploy® lets you provision hundreds of systems as fast as you can provision one. Powered by the Acronis AnyData Engine, award-winning disk imaging technology lets you create an exact disk image of any standard configuration you choose - including the operating system, configuration, files, and all applications - and simultaneously deploy the image to multiple machines in one easy step. Acronis® Snap Deploy® will also automatically manage machine-specific configurations.
Fueled by over 100 patents, the Acronis AnyData Engine is the core suite of technology that powers all Acronis new generation products enabling them to capture, store, recover, control, and access data.
Acronis Snap Deploy is able to redeploy the image to live Windows Machines, eliminating need for manual booting of each individual system. The product also manages machine-specific configurations including machine names, IP addresses, domain membership, and other settings. In addition, as soon as you finish a deployment, Acronis Snap Deploy lets you easily modify Windows® settings.
Benefits
Improve IT productivity by provisioning OS and Applications to bare-metal machines
Save time with automatic machine post-configuration
Rapidly re-deploy machines to refresh or change configuration in a class, lab, or R&D, or test environment.
Reduce IT efforts with deployment to live machines – no more manual booting
Automate process with scheduled deployments
Key Features:
Ease of use
A simple and intuitive user interface saves time and reduces errors.
Deploy multiple operating systems
Acronis Snap Deploy supports Windows Desktop PCs, Laptops, Servers, and Linux.
High-speed dispatch
Rapidly deploy a single image to multiple machines via unicast or multicast from central management console
Flexible deployment options
Leverage manual, automatic, user-initiated, and scheduled deployment modes. You can deploy a standalone image even if your system is not on a network.
Deploy to live machines
start deployment to live Windows machines and avoid manual booting of each individual machine from network or CDs.
Deploy anywhere
provision the same image to dissimilar hardware, even to different machines simultaneously, with Acronis Universal Deploy.
Machine-specific configurations
Assign individual settings to each machine for tailored configuration. Monitor the status and pre-configure new machines, identified by MAC address.
Flexible licensing
select suitable option from per-deployment, per-machine, and the site license.
Requirements:
Install on:
Microsoft Windows Server 2012 / 2012 R2
Microsoft Windows Server 2008 / 2008 R2
Microsoft Windows Small Business Server 2011
Microsoft Windows Server 2003 / 2003 R2
Microsoft Windows 10 / 8.1 / 8 / 7 / Vista / XP
Deploy:
Microsoft Windows Server 2012 / 2012 R2
Microsoft Windows Server 2008 / 2008 R2
Microsoft Windows Small Business Server 2011
Microsoft Windows Server 2003 / 2003 R2
Microsoft Windows 10 / 8.1 / 8 / 7 / Vista / XP
Microsoft Windows 2000 Professional
Microsoft Windows 98/ME/NT
Microsoft Windows 2000 Server
Linux
File systems:
FAT16/32
NTFS
Ext2 / Ext3 / Ext4
ReiserFS / Reiser4
XFS
JFS
Other file systems (sector-by-sector)
Store images on:
Local folder (HDD)
Network share
USB HDD
USB Flash Drive
CD/DVD/BDROM
Pricing and product availability subject to change without notice.
This product is available as instant electronic delivery upon purchase.
Acronis Advantage Premier - Offers 24 x 7 support services available via phone, chat, and email. Acronis Advantage Premier customers receive priority support in the event of a business-critical system error (severity A), customers will receive the initial response within one hour. The first year of service is included with the Acronis line of corporate products.